John "Spazz" Hatton
Brian Setzer orchestra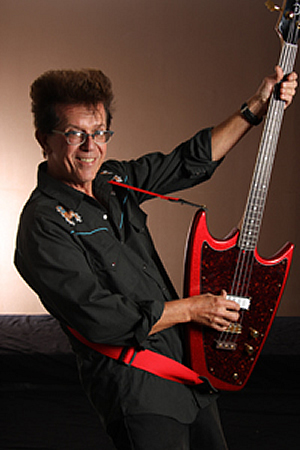 ---
Mark Sissel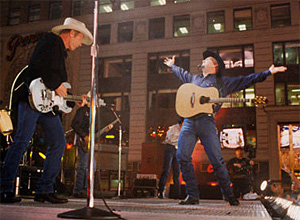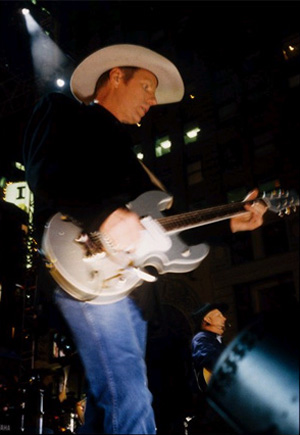 Capitol recording artist Mark Sissel is a very talented guitarist that has played with the best of them. He really dig's the Stradette for it's vintage feel and vibe. Mark say's it plays fantastic and has vintage tone. Mark just recently caught playing his Hallmark Vintage Series Stradette on the CMA Awards filmed live from Times Square in NYC. Look for this footage in the new Garth Brooks video supporting the new hit single "Good Ride Cowboy."
---
Deke Dickerson's
All-Star Frat Band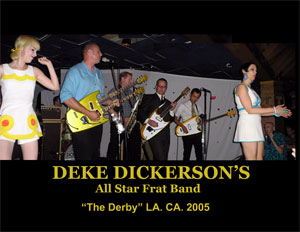 When Deke hit's the trail with the All Stars they use the Hallmark Swept-Wing guitars exclusively! Complete with groovy Go Go Girls this is a show you don't want to miss. That is non other than Garrett Immel from the Ghastly Ones on second guitar! What a great line up! Dekedelic!
---
Dan moses
the dynotones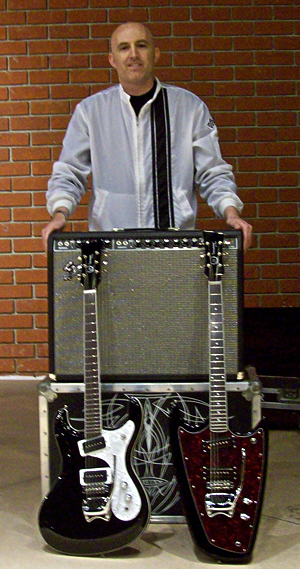 "I am the proud owner of two customized Hallmark guitars. These guitars sound great, and are a lot of fun to play. Bob Shade has been very easy to work with. It's never a problem for him to accommodate special requests. Move over corporate guitars, Hallmark is taking over!"
Dan Moses
The Dynotones
---
stephan jenkins
third eye blind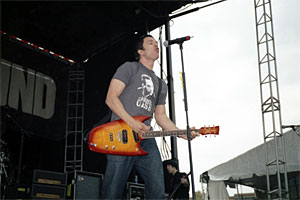 Third Eye Blind are the multitalented group known for their catchy hooks, unassuming lyrics, and rock till you drop concerts. Stephan is using a Custom Series model Swept-Wing and is currently in the studio recording their new LP and really likes the tone. For more information and live dates visit www.thirdeyeblind.net
---
tony senatone
genya ravan/solo artist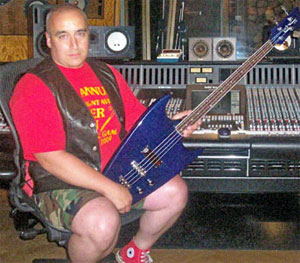 "Just when I tried to quit the bass buying business, Bob Shade of Hallmark Guitars pulled me back in. I just used my Swept Wing Bass on a recording session at the Barber Shop Studios in Lake Hopatcong, NJ.
It plays in perfect tune all over the neck, it's light, and so easy to play. Did I mention that it sounds awesome? In these days of bass guitars with 18 volt batteries and too many pickups, the Swept Wing is like a breath of fresh air. Many thanks to Bob Shade for resurrecting the Hallmark line, and helping me to become a Hallmark Artist."
For more information on Tony go to: www.senny.com.
---
ralf kilauea
the kilaueas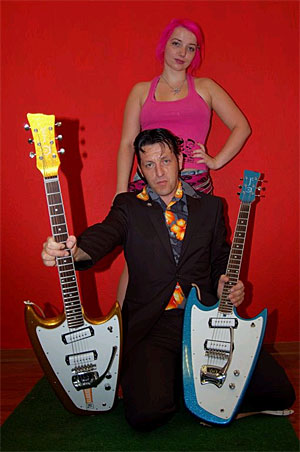 " What is better than one Swept-Wing guitar? TWO Swept-Wing guitars! I really love my Hallmark guitars and am playing them exclusively on our USA tour!"
For more information on this great band, go to www.Kilaueas.de.
---
hot rod trio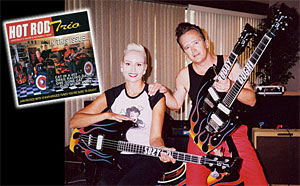 "My Hallmark Guitar plays and sounds great, nice slim necks and real cool, easy action vibrato tail piece. The pickups are out of this world, really clean and incredible tone! Best of all is the unique body shape, not just another guitar. Bob Shade should be very proud. He has reintroduced a classic design and has improved upon it without completely modernizing it, unlike most manufacturers."
Proud player of Hallmark Guitars,
Buddy Dughi
The Hot Rod Trio
"My Hallmark plays just great! The neck has ultra fast action, it is lightweight and comfortable and is an absolute dream to play. The pickup sound is fantastic, nice clean highs and crystal clear lows.
The body style is so cool it looks like something out of a Jetson's cartoon! The craftsmanship is nothing less than the highest quality and it shows!"
Extremely satisfied Hallmark Bass player,
Suzy Dughi
The Hot Rod Trio
Visit the Hot Rod Trio and purchase their CD "In This Issue" featuring the new Hallmark SweptWing guitars: www.thehotrodtrio.com.
(Suzy and Buddy are both playing the set-neck custom Sweptwing models hand-built by Bob Shade.)
lorrie and larry collins
the collins kids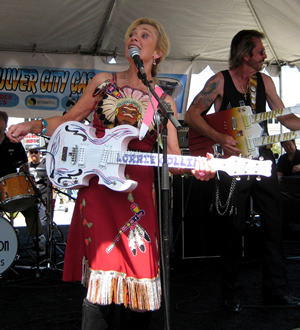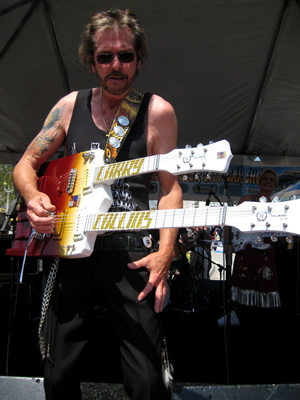 ---
deke dickerson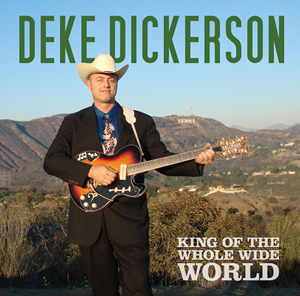 "I love the new Hallmark SweptWings! I'm proud to be a sponsor for the new Hallmark company. My new custom shop double-neck has been turning heads all over the world! For a combination of classic Jetsons styling, and great guitar tones, you can't beat 'em!"
Deke Dickerson
Catch "DEKE DICKERSON" on tour around the world playing his custom shop double-neck Hallmark SweptWing® guitar with built-in lightshow! Sure to astound and delight your senses! Also don't miss out on Deke's website for all things DEKE!
www.dekedickerson.com
(Deke is playing a set-neck custom shop SweptWing double-neck hand-built by
Bob Shade.)
---
Rick Miller
Southern Culture on the Skids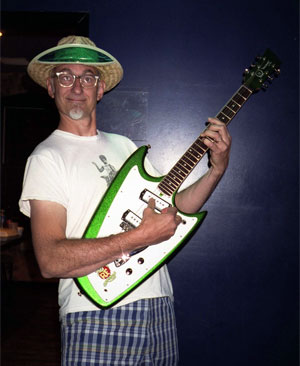 Here's Rick Miller from none other than Southern Culture On The Skids hanging backstage with his Swept-Wing guitar in green sparkle complete with Rat Fink sticker and color coordinated hat. Party on Rick! For more information on Rick and S.C.O.T.S. click here!
---
the hexxers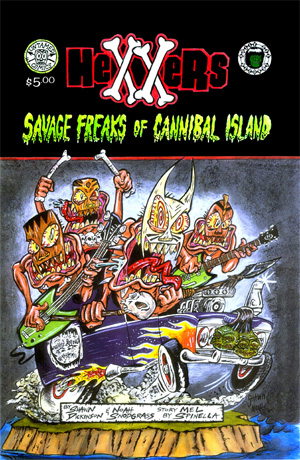 It's not every day you get to see your line of guitars in cartoon form. Here is a group called "The Hexxers" that play the Hallmark Swept-Wing guitars exclusively! We did their pickguards for them in Hexxers slime green to give them a unique look. If you like comics and screaming raw rock and roll you will want to check out the Hexxers savage sound. To purchase a copy of the Hexxers Comic or recordings go to www.gollygeerecords.com.
---
eric bloom
Blue oyster cult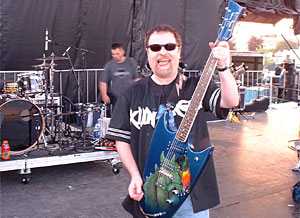 We really had a great time building this Art Series guitar for Eric! It was a pleasure and a fun project. Look for Eric Bloom on tour with Blue Oyster Cult playing his Hallmark Swept-Zilla guitar! For more information on Eric Bloom go to www.ericbloom.net Oh no! There goes Tokyo!
---
Van Serpico
The Malamondos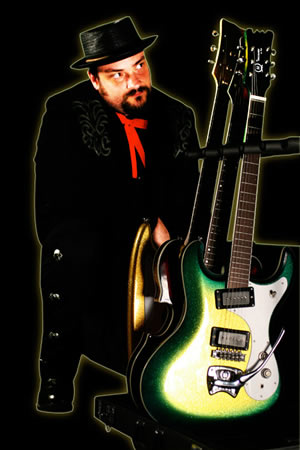 About two chords into playing a friend's Swept-Wing, I started deciding which of my current guitars to sell so I could pick up a Hallmark.
Yeah, they look cool, but that's only part of the attraction. The feel, sound and playability of ALL of my Hallmarks are light-years above any guitar in it's price range. Get it or regret it...simple as that, folks.
Thanks Bob!!
Van Serpico
The Malamondos
---
The silvermen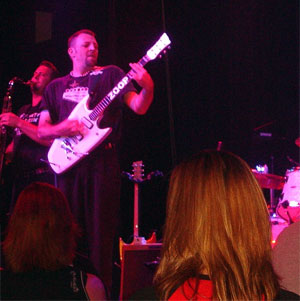 Last night, at practice, I plugged it in for the first time... I've never heard a clearer sounding guitar, unbelievable. And the neck plays so effortlessly that my fellow Silvermen were getting annoyed, because it was so fun to play that I wouldn't stop... I was excited! If I could afford to (and if I had the space), I would buy six more SweptWings, one in each color! I'll tell you the truth, I'm hard to please when it comes to guitars, I'm extremely picky (especially since I cut the ring finger on my fret hand almost completely off in 1997 with a miter saw, and can't bend it at the first knuckle... A neck's playability is very important.) So for me to be impressed this much is something to take to heart. Kudos to you and your luthiers. Plus, it just looks so cool. Keep it up, please!
Sincerely,
Zoop
Visit the Silvermen and purchase their new CD "Incendiary, Luminary..."!
www.thesilvermen.com