Hello friends!
COVID 19 UPDATE: LIMITED STOCK READ THIS PRIOR TO PLACING AN ORDER!!!
Due to COVID 19 and increased sales and slower manufacturing of products we need, we have very limited colors and certain models may be sold out temporarily. PayPal fee's cannot be refunded if you place an order. We are more than happy to provide a full refund to you less fee's. PayPal will not return the fee's to us so we in turn cannot return those fee's back to you. So please contact Bob at hallmarkguitars@verizon.net and check stock prior to you order. Thank you and Rockin regards! - Bob Shade
---
Introducing the Red Baron!
Here's another show machine exclusively from Hallmark Guitars USA! Your senses be on overload when you play and feel the new Red Baron guitar with all of the quality and madness we are known for! With the combination of features such as our new Hallmark "full size" hum bucking "high power" pickups with a 5 way rotary selector switch, to custom "one of a kind" features you will never find on another guitar like real rubber slick knobs with Iron Cross mag wheels, chrome German helmet truss rod cover and high end red leather and red velvet case much more! Custom car legend Bob Larivee who was responsible for the build of the original 60's Red Baron show car will be signing a "certificate of authenticity" that will come with the guitar for collectors. This is a limited edition run of only 50 pieces so do not miss out!! This is the Red Baron show guitar. Get one and try a "drive by" on your audience today. It's way out!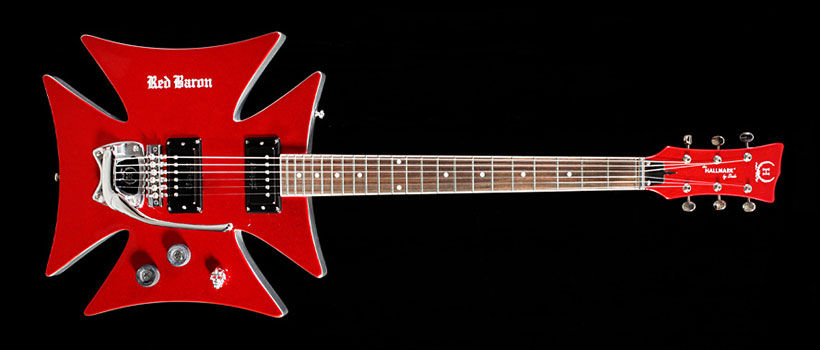 ---
Introducing the Man or Astroman? Signature Model!!!
It's official! The MOAM? Star Crunch signature model guitar is here! Yes - Star Crunch's guitar has now been officially declassified, decontaminated, deconstructed and then painstakingly reconstructed by scientists located here at the Hallmark Guitar Institute. Bob Shade, head of Research and Development at the Institute, has successfully created the Astro-Machine right down to the molecular level. Click here for more information to get your own piece of space history!

Introducing the new Hallmark 65 and 63 Custom Basses!
New for 2014, the 63 and 65 Custom Basses! Vintage style and modern in performance, the new Hallmark 63 and 65 basses deliver everything you have been waiting for!From the triple bound carved tops and classic finishes to the custom wound pickups and proprietary hardware, these basses will turn heads, deliver quality tone and effortless playability!
Click on the images below for images and further information.

---
INTRODUCING THE KUSTOM KINGS CD!
The Kustom Kings is an exciting and new collection of songs on the Swept-Wing label by legendary artists who play Hallmark Guitars. Hear the tone of all of the Hallmark Guitars on one release! The cd comes with a bonus 8 page 4 color booklet that features our artists and the guitars they play! Click here for more

ANNOUNCING THE HALLMARK II!
The new guitar for this year has arrived! The new Hallmark II's are in stock! Hot pickups, contoured body, light weight, smooth tremolo makes this a real rock and roll machine! Click on the guitar pictured here for more information and stunning photo's on this exciting new offering only from Hallmark Guitars!!
---
VENTURES FAN JAM 2012
!
Come JAM with THE VENTURES in 2012! Hallmark Guitars will have a wide selection of guitars for YOU to try out. Don't miss this opportunity to get in on the fun! There will be JAMS, MEMORABILIA for sale, Special guests, food and raffles! And most of all, Come jam with THE VENTURES! Hallmark Guitars for one day, will discount any guitar at the event $100.00 off of each guitar including case and there is no shipping charge because we are delivering them ourselves. We accept Paypal and will be able to make the transaction on site and good ol cash works too. The nice price. Be there, and don't miss out on this one of a kind event! - Bob Shade/ Hallmark Guitars
---
The Hallmark Johnny Ramone Model has been given a great review from Premier Guitar! Read the review here!
---
We had a super event at NAMM 2011 this year! Attendance was up and we met some really great players! We met up with Hugh McDonald among others. Hugh is currently on tour with Bon Jovi rocking arenas around the world, and has played with everyone from Ringo Starr to Lita Ford. We are now building a bass for Hugh that will be a production model as well for those of you (and you know who you are) that have been e-mailing us about a 60 Custom bass. The time has almost arrived!
---
Another New Jersey veteran Bob Bandiera is on tour with Bon Jovi playing one of our Hallmark 59 Customs in a vintage Cream White finish. Bob has been seen playing with the likes of Southside Johnny and the Asbury Jukes for years as well as Bruce Springsteen. Bob says he loves the 59 Custom and will be using it on tour. See here Bobby rockin out at Madison Square Garden!
---
I would also like to welcome Gary Hooker from the Brad Paisley band to the news page! Gary is an 18 year vet with Brad and is one talented guitarist! Gary wanted a Red, Silver and Blue H60C and we were only too happy to accommodate. Gary was seen on the Fox Network event, the Daytona 500 rockin the crowd up! See Brad's tour schedule for more information.
---
Also in the news: Hallmark Endorsee "GEORGE BARRIS" the "King of the Kustomizers" is on a new hit TV show called "CAR WARRIORS" If you have not seen it yet tune in to the Speed Channel Network on Wed. evenings for a great new show! Go George! 
---
Speaking of George Barris, we will be attending the Culver City Stars Car event in Culver City CA on May 7th for a great time! We will be auctioning off a Hallmark Guitar for charity and Deke Dickerson will be performing as well as the Dynotones! Don't miss this great and exciting event! It will be filmed by the Speed Channel so come by and get in the action.

Until the next report, burn rubber and break strings! - Bob Shade