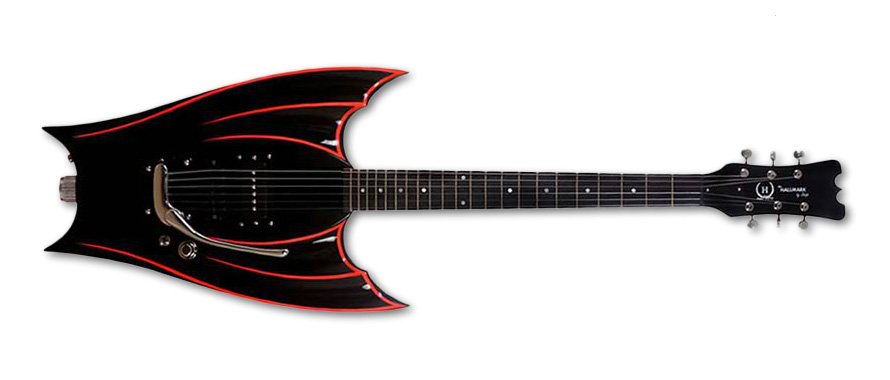 HALLMARK® has done it again with the all new Wing-Bat model guitar!
Bob Shade got to work using the now legendary Swept-Wing® body design from 1966 to re-design and create a brand new guitar to unleash a hurricane of power and thrill your senses! This high quality custom musical instrument is not for the timid. From it's silky smooth action and access to all upper fret ranges for split second response, you will notice right off, that this is mastery in motion, with enough power to tame a tornado!
This guitar is endorsed by George Barris "The King of the Kustomizers" Who else would know a top custom piece of machinery any better? At auto events, enthusiasts have been know to wait in line for hours just to see his car designs close up! ( I would know, I was one of them!) Now you can for a limited time, get this official Wing-Bat model guitar with a Certificate of Authenticity signed by George Barris, showing his official endorsement for this exciting new instrument!
GET YOURS TODAY AND LIGHT UP THE NIGHT WITH THE ALL NEW WING-BAT FROM HALLMARK GUITARS!
Features
Custom black and flourescent red paint
Turbine power boost w/ switch
Scalloped Wing design
60 Custom pickup
Shade vibrato and roller bridge
Mahogany body
24+3/4" scale length
Maple neck with ebony fingerboard
Official Barris crest on guitar
Custom Wing-Bat case