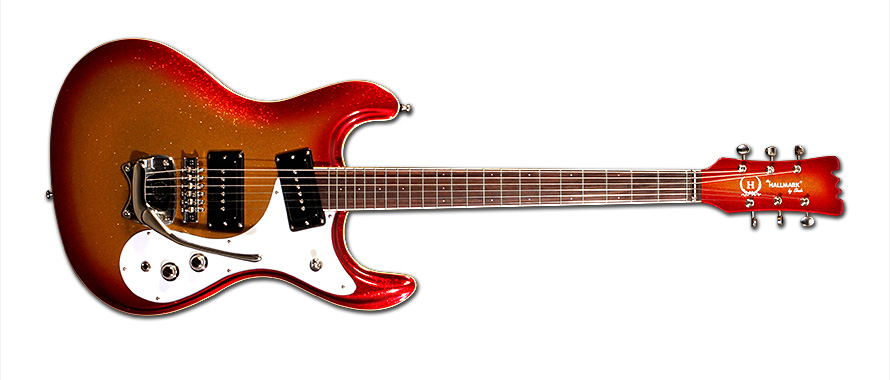 Step into the wonderful world of dynamics and go places with the all new 60 Custom!
Designed by Semie Moseley and Joe Hall in 1960, this guitar has now become a classic. We have had so many people ask us for these because they want the Hallmark quality and price. These will be in custom colors and will be priced so anyone can afford one! It is a true beauty and classic design play ability. From the body to the pickups, the guitar is more than what you expect. We have been custom hand building and restoring these guitars for years, so we know exactly the way to do it right. From Joe Hall with the design and Bill Gruggett hand-building the first originals and managing the operation in their hey day and myself a master luthier an understudy of Bill and Joe, you should feel confident in your purchase.
Re-designed with all of the features that make this guitar one of our most versatile ever. With the 1+5/8" width at the zero fret (nut),and crowned fretwire, this guitar is made to play. So many players have noticed the vintage models look and sound great, but they were too difficult to play, due to the tight string spacing. Our 60 Custom eliminates these issues but still retaining all of the key ingredients. With the pickup design, we have all the ingredients of the originals like cast alnico magnets, custom hot wound coils, but we have eliminated the issues from the vintage pickups. So unlike the originals, these are quiet and can be used in a high gain amplifier without feedback squeel and hum. This is no one trick pony!
If you have any questions or would like any custom features, pickups, or custom paint work, please do not hesitate to contact me directly. We do it all.
Best reverbs,
Bob Shade
Click to enlarge images
Features
Scale length: 24+3/4
Shade Roller Bearing Vibrato
Hallmark locking saddle roller bridge for perfect intonation
Shade Custom Wound High Fidelity Pickups
Zero Fret for exact pitch return
Custom finishes
Set Maple neck with bound Indian Rosewood fingerboard
Alder Body with body binding
Vintage style tuning keys
Available Finishes - click to enlarge


ORDER NOW!