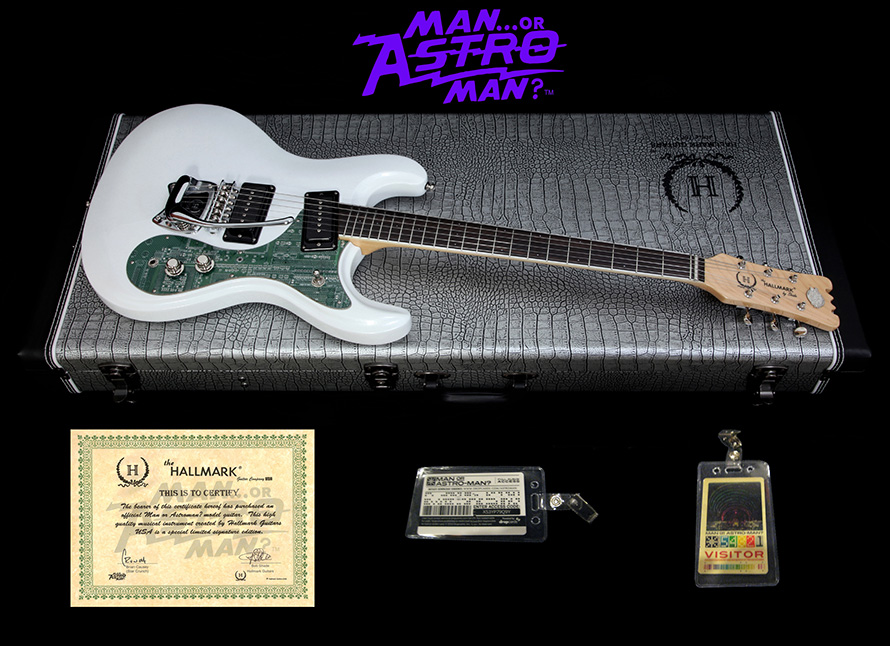 Man or Astro-Man? hit the punk and surf scene in the 90's being known for their space and sci-fi themed intense guitar fueled music. Their live shows are legendary and surely not to be missed employing objects such as flaming theremins, and tesla coils spewing real electric high voltage around the room!
Their prolific lead guitarist Brian Causey aka"Star Crunch" has an electric sound all his own. Star Crunch has been using Hallmark brand guitars for many years and usually has about five with him when returning to earth. It is our pleasure to offer you the official "Man or Astroman?" Star Crunch model guitar!!
Click to enlarge images
Features
Shade Roller Bearing Vibrato
Scale length: 24+3/4
Hallmark locking saddle roller bridge for perfect intonation
Shade Custom Wound High Fidelity Pickups
Zero Fret for exact pitch return
Official MOAM? headstock coin
Real circuit board pick guard by Star Crunch
Bolt-on Maple neck with bound Indian Rosewood fingerboard
Alder Body with Pearl White finish
Vintage style tuning keys
Certificate of authenticity signed by Star Crunch and Bob Shade
Special Hallmark hard shell case made from Space-gator with black chrome hardware
Special collectors MOAM? visitors badge with a download code for their latest LP


ORDER NOW!