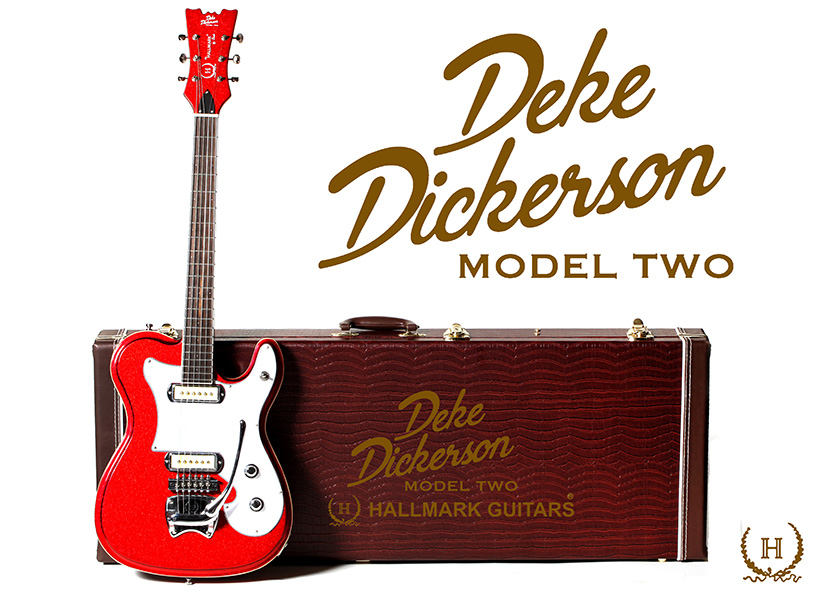 In keeping with the theme of the Deke Dickerson signature we introduced years ago that rivaled Joe Maphis's famous double neck, this all new Deke Dickerson "Model Two" has the key components but has shed it's skin of the ultra fancy ginger bread components for two very important reasons. We had inquiries from guys who could not afford the Deke 1 and also some who did not want all the ultra fancy components for their every day go to guitar, but wanted the sound and play of that guitar. Later I saw the video of Don Rich playing with Buck Owens with a Mosrite Semie Moseley guitar specially built for Don in 1968. It had the same shape and a tone chamber just like our last Deke Model 1, with a Mosrite/Dobro pickups and an "F" hole and larger pickguard. A light went off in my head and I immediately thought...... Deke Dickerson Model Two!! I contacted Deke and he loved the vision as well. One of Deke's requirements was no "F" hole, so that was taken out of the design. I was able to locate a box of NOS Mosrite/ Dobro pickup surrounds in storage out in Bakersfield Ca. (flipped me out) just for this new project which gives the guitar the exact look while retaining the key ingredients of our JM-6 Pickup.  The rest is now Hallmark history!!
 Colors are very limited so if you want one of these in one of these colors, we suggest ordering today!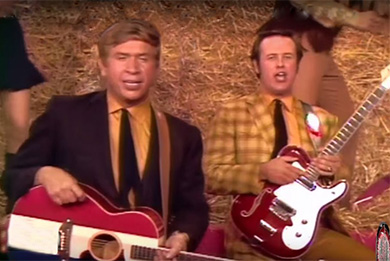 Features
Colors: Candy Red Sparkle, Royal Blue Sparkle, Gloss Black
Scale Length 24+3/4"
Bone Nut
Shade Roller Bearing Vibrato
Shade Locking Roller Bridge
Custom wound Hallmark JM-6 pickups housed in genuine NOS 60's Mosrite/ Dobro Pickup Surrounds
Hard Rock Maple Set Neck With Bound Rosewood Fingerboard
Tone Chambered Alder Body With Binding
SIT Tuning Keys
Click to enlarge


ORDER NOW!