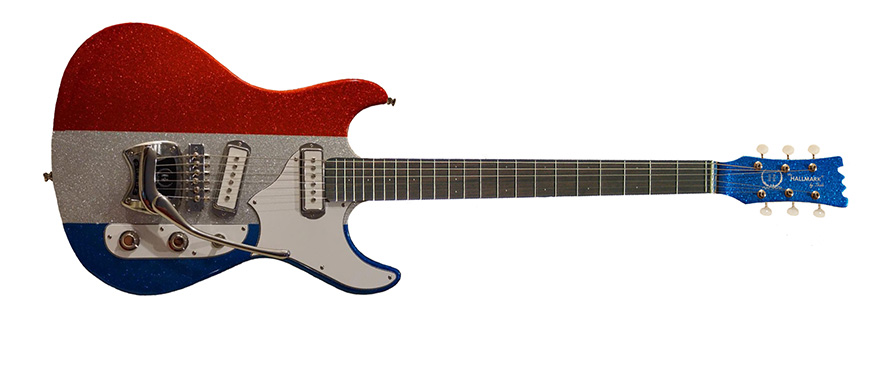 Developed by Semie Moseley at Mosrite in the early 70's for Buck Owens' band the "Buckaroos," Bob Shade decided to re-look at this guitar and add a few things that Hallmark owners have come to expect.
Your eyes immediately tell you this guitar is something special. The Buckaroo guitar features include an "Alder" body for sustain, a "Hard Rock Maple" neck, "Indian Rosewood" fingerboard, easy action "Shade Die Cast Roller Bearing Vibrato," and Shade designed "Locking Roller Bridge" for in tune performance isolating string vibration where you need it most.
The pickups are housed in late 60's NOS Mosrite/Dobro pickup surrounds with our mini Hallmark JM-6 pickup design achieving tones from Joe Maphis to country and rock, you name it........but make no mistake......... crank up the volume and feel the blazing power and sustain housed in these pickups. They are "bold" in clean mode and like a tonal saturation "hurricane" in distorted mode.
The controls are mounted on a functionally smart instrument panel by your picking hand for ease of operation. Included is our classic Hallmark hardware, with "Zero Fret" and white button SIT tuning keys. Also included is a Hallmark luxurious brown alligator hardshell case at no extra cost. YOU will rule the stage with the all new Buckaroo model guitar!!
Best reverbs,
Bob Shade
The Hallmark Buckaroo is a twang-ready guitar with prime history and gnarly tones. You'll look like a million "Bucks." - Pete Prown Vintage Guitar Magazine
Features
Scale length: 24+3/4
Shade Roller Bearing Vibrato
Hallmark locking saddle roller bridge for perfect intonation
60's NOS Mosrite/Dobro pickup surrounds with our mini Hallmark JM-6 pickup
Zero Fret for exact pitch return
Custom finishes
Set Maple neck with bound Indian Rosewood fingerboard
Alder Body with body binding
Vintage style tuning keys

ORDER NOW!