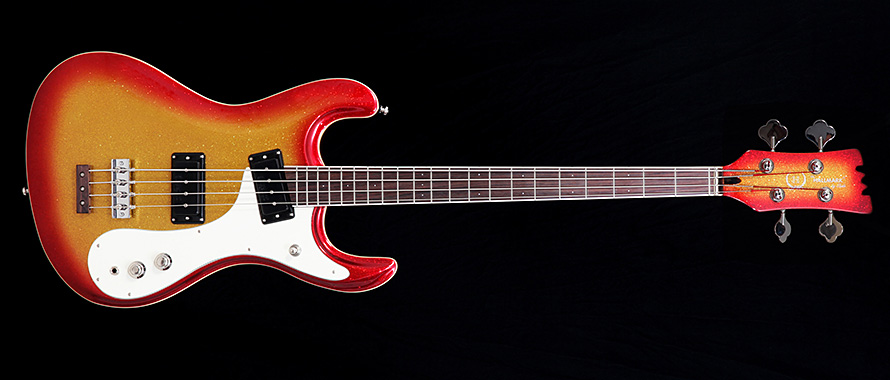 Break through the sound barrier with the 65 Custom Bass!
This classic bass offered in 1965 with daring design and punchy low tones is a classic! With improvements engineered by Shade, you will notice this bass roadworthy and ready for action! You will get every promise of top of the line performance, ease of playability, quality of tone and sheer luxury of finishes and appointments. This bass spells "luxury" with graceful classic lines in the carved top designed in 1959 by Joe Hall and Semie Mosley. You will notice with the 32" scale length and wider neck, this bass is meant to be played. It only takes a second to notice the sustain and tone thanks to our exclusive Hallmark locking bridge with solid brass chrome plated bridge saddles. Designed by Bob Shade each individual saddle has a locking pin under the bridge for stability and sustain. There is a solid rosewood tailpiece for beauty and tonality. This 65 is a "bolt on neck" bass for that classic "snap" with punchy lows and mids. With this dual pickup bass if you want more highs, mids or lows, simply flip the switch and it will be hard to believe the full selection of tones!
We have unleashed a monster!!
Get yours today!!
AVAILABLE FINISHES and CLOSEUPS
Click to enlarge
Features
Scale length: 32"
Hallmark locking saddle stationary bridge for perfect intonation
Shade Custom Wound High Fidelity Pickups
Zero Fret for exact pitch
Standard and Custom finishes
Set Maple neck with bound Indian rosewood fingerboard
Alder Body with 3 ply body binding
Vintage style tuning keys
ORDER NOW!