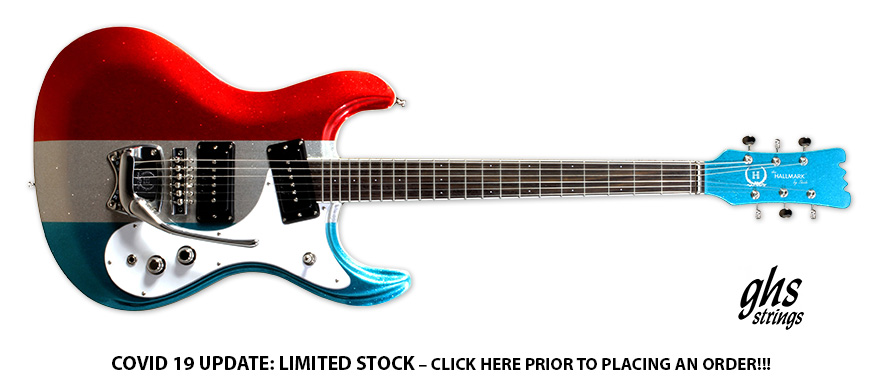 Welcome to Hallmark Guitars
Rock and Roll. Country. Punk. Surf...whatever kind of music you play, Hallmark has a guitar for you. We're proud to produce some of the most infinitely playable, visually stunning and affordable high-quality instruments on the market today.
We encourage you to poke around our site and check out our long history, testimonials from artists, historic and modern galleries and, of course, our world-class instruments.
And, as always, thanks for stopping by!
-Bob Shade
News

COVID 19 UPDATE: "LIMITED STOCK" CLICK HERE PRIOR TO PLACING AN ORDER!!!
Due to COVID 19 and increased sales and slower manufacturing of products we need, we have very limited colors and certain models may be sold out temporarily. PayPal fee's cannot be refunded if you place an order. We are more than happy to provide a full refund to you less fee's. PayPal will not return the fee's to us so we in turn cannot return those fee's back to you. So please contact Bob at hallmarkguitars@verizon.net and check stock prior to you order. Thank you and Rockin regards! Bob Shade


Introducing the Man or Astroman? Signature Model!!!
It's official! The MOAM? Star Crunch signature model guitar is here! Star Crunch's guitar has now been officially declassified, decontaminated and deconstructed.. Read More

Introducing the new Hallmark 65 and 63 Custom Basses!
New for 2014, the 63 and 65 Custom Basses! Vintage style and modern in performance, the new Hallmark 63 and 65 basses deliver everything you have been waiting for! Read More

INTRODUCING THE KUSTOM KINGS CD!
The Kustom Kings is an exciting and new collection of songs on the Swept-Wing label by legendary artists who play Hallmark Guitars. Hear the tone of all of the Hallmark Guitars on one release! The cd comes with a bonus 8 page 4 color booklet that features our artists and the guitars they play! Click here for more
ANNOUNCING THE HALLMARK II!
The new guitar for this year has arrived! The new Hallmark II's are in stock! Read More
VENTURES FAN JAM 2012!
Come JAM with THE VENTURES in 2012! Hallmark Guitars will have a wide selection of guitars for YOU to try out. Don't miss this opportunity to get in on the fun!
Read More
Premier Guitar gives the Johnny Ramone Signature Guitar a great review! Click the link below to read all about it!
Read Review
Check out all the Hallmark Guitars NAMM news here!
Read More
Bon Jovi and Hallmark news!
Hugh McDonald, Bob Bandiera and their Hallmarks on the road with Bon Jovi!
Read More
Hallmarks on stage with Brad Paisley!
Read about 18 year Brad Paisley-vet Gary Hooker and his Hallmark 60 Custom!
Read More
George Barris on the tube!
George, the "King of the Kustomizers", is on a new hit TV show called "CAR WARRIORS"!
Read More